Profane und religiöse Statuen,
Figuren, Reliefs - gestalten wir in allen Stilarten, in Holz, Stein, Bronze und anderen Metallen. Bitte betrachten Sie die wenigen Abbildungen nicht als abschliessenden Katalog: abgesehen von den kleineren Krippenfiguren, die wir auf Lager herstellen, entwerfen wir grössere Statuen stets von Grund auf neu, meist nach Wünschen und Anforderungen der Kundschaft, aber auch als freie Kunstwerke.

We create statues and reliefs in period styles or modern, in wood, stone, bronze and other metals. Please note that the illustrations in the catalogue are not exhaustive; in addition to the small nativity figures that we keep in stock, we produce larger figures to customers' specifications, and also original artwork. We create this work always new, according to the locations and the desire of the clients.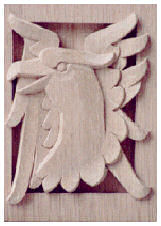 7317 St. Johannes, für einen Ambo in Eiche, Wilen SZ
Symbol of St. John Evangelist